Getting Started
Nowadays, dropshipping is a very convenient online business type. With dropshipping, you can have your personal online store without keeping an inventory and without making investments in advance. This business model enables you to pay for the products only after clients purchase them. Also, with dropshipping, you don't have to pack and ship products because it's the supplier's responsibility. This way you can run your store around the world, without doing much but in return earn some good amount of cash.

How to Start Dropshipping?
Nowadays, it's fairly easy to start an online business with dropshipping. All you have to do is create a Shopify store, a product importer like DSA, be over 18 and have a credit card to be able to receive payments.
To create a Shopify store, you have to buy a Shopify subscription plan, buy a domain and set up your website. The platform allows you to easily customize your website even if you're just a beginner.
Next, you need to download the DSA product and review importer app and Chrome Extension to start transferring products from trusted suppliers, such as Amazon, Aliexpress, Etsy and beyond.
That's it, you're dropshipping business is all set up. After completing all these steps, you can sit back and let the store work for you.

What's Your Profit from Dropshipping?
What's great about dropshipping is that you can set your own prices.
Let's say the product on the supplier's website costs $100 you can sell it for $150 and earn $50 from every purchase. Besides, with your dropshipping business you don't have to worry about packaging and shipping. Since the supplier does everything for you. So, you don't have to have an inventory with a dropshipping business. All you have to do is create your Shopify store and start earning online.
DSA, a lead Shopify product importer, helps to automate the dropshipping process by making product and review imports faster and easier. Instead of importing each product manually, DSA automates the process to save your precious time. All you have to do is click one button, customize the products on the DSA dashboard and import them to your Shopify store. It's that simple.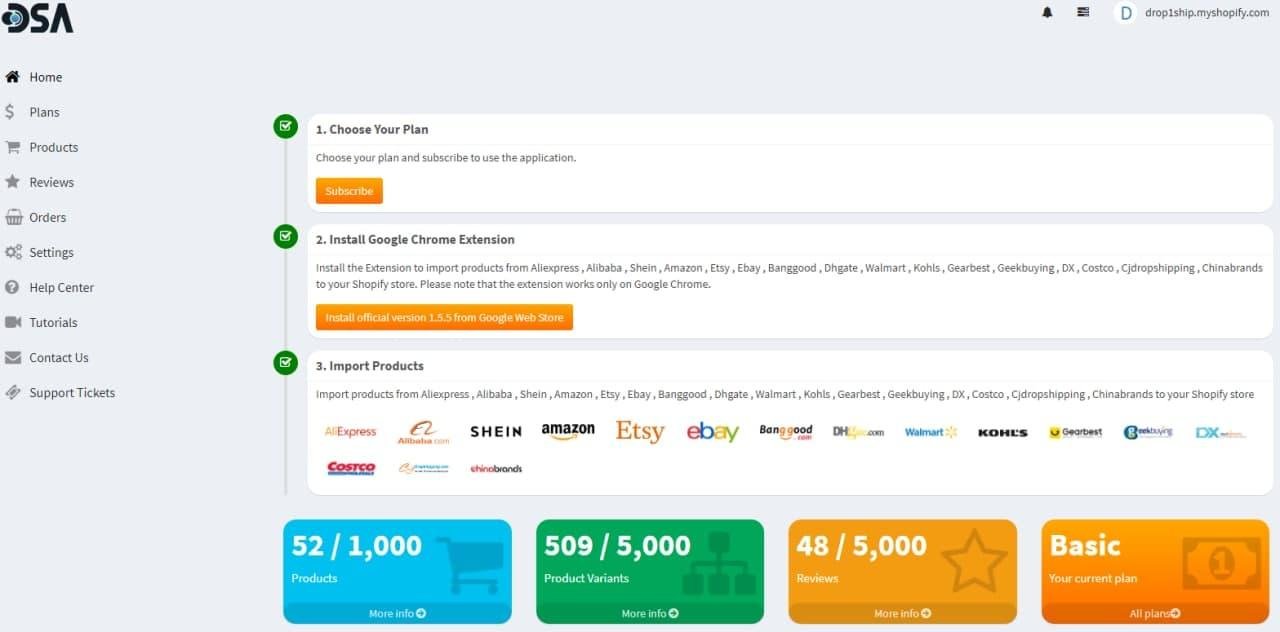 Follow these simple steps to sign up for DSA and start setting up your business on Shopify.
Step 1: Create a Shopify store. (If you already have a Shopify store, skip this step)
Step 2: Search for the DSA app in the Shopify app store and click on the "Add app" button to install it.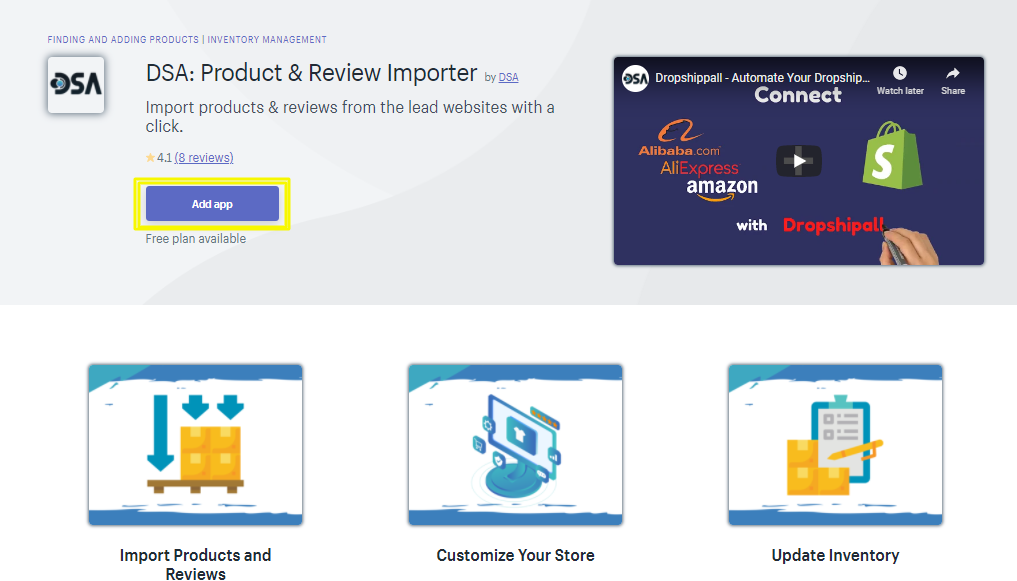 Step 3: After the installation is complete, you can go to your DSA dashboard.
Step 4: Pick one of DSA's pricing plans and subscribe to start importing products and reviews to your store.



Step 5: Download the DSA Chrome extension by clicking the "Add to Chrome" button.



Once you have the DSA Shopify app and Chrome extension you're all set up to start dropshipping from lead platforms, such as Amazon, Aliexpress, Etsy and beyond.


Ready to start importing products with DSA?