Getting Started
DSA will help you to start your first online business.
To install and Sign Up to DSA app for Shopify, you just need to follow our advices:
If you have a Shopify store get DSA from the Shopify App Store.
Click on the "Add app" button & install DSA to your Shopify store.

When the installation process is complete, you can see and use your own Dropshipall dashboard.
Now you just need to do 3 simple steps.
Choose one of our Pricing plans that you Prefer, subscribe to be able to use our application.
Install the Dropshipall Chrome Extension. Please notice, that extension works only on Google Chrome.
After pressing the button install, a new window will open in front of you․ Press the butten "Add to Chrom"
Now in your Chrome Extension you have Dropshipall.
Import products from Aliexpress , Alibaba , Shein , Amazon to your Shopify store.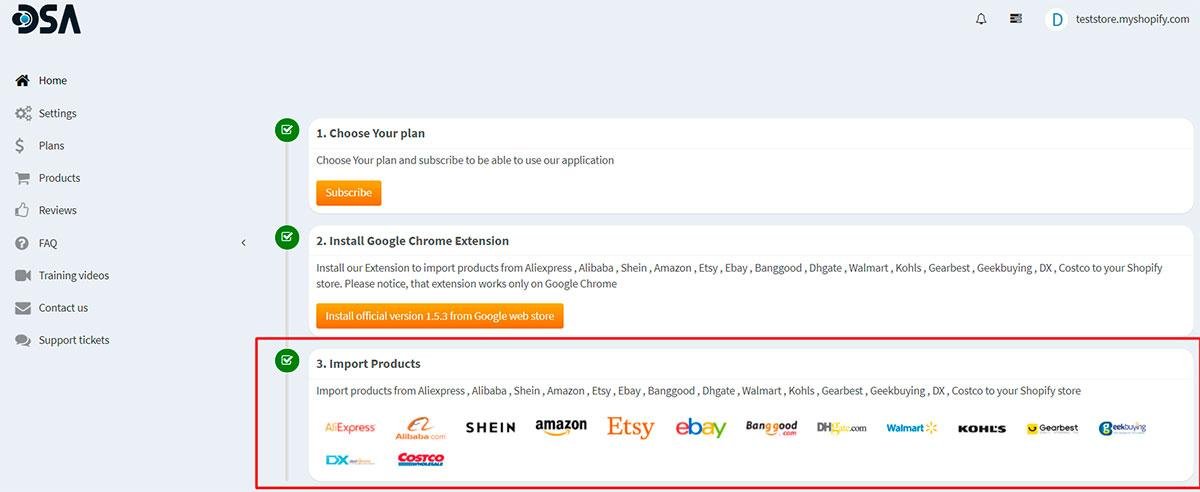 We offer you 3 subscription plans to select from:
The Starter plan is free per month.
The Basic plan is 13.99$ per month.
And the Business plan is cost 23.99$ per month.
You can always use The Starter plan, it is indefinite. Each paid account starts with a day trial․
To get more information about tariff plans, please look at our pricing page.
Questions not answered yet?
We'd love to hear from you!